My New Work Laptop – A Toshiba KIRAbook Ultrabook
My work laptop for the last 3 years has been a modified HP EliteBook 8740w. It's usefulness shrank pretty quickly as System Center grew bigger and my Hyper-V demos started to require more and more machines, 10 Gbps networking and JBODs. A lab has been built and I routinely access it remotely – and I've been known to record some demos using Camtasia when Internet access is dodgy.
An opportunity arose to replace my work laptop – I could move from "the best" to an Ultrabook. This would kill a few birds with one stone:
Use a brand of machine in work presentations that my employers actually distribute (Toshiba)
Use a lighter machine
Donate "the beast" to the lap where it can be reused as a host, maybe as an NVGRE gateway host.
We ordered in some Toshiba KIRAbooks, Toshiba's premium consumer ultrabook. This is a mad laptop; i7-4550U, 8 GB RAMM, 256 GB SSD, and …. a screen running at 2560 x 1440. It's unusable without Windows 8.1 screen scaling.
First impressions: Very nice (touch) display. Nice functional build. It looks nice on the desk. Good keyboard. Nice big mouse pad. Slim. Obviously lighter than "the beast". It has 3 x USB, 1 x SD, and 1 x full sized HDMI. Battery is listed at 9.16 hours (probably by using the custom ECO power profile). It came with Windows 8.1 Pro with the April 2014 update. There is no stylus. And yes, I had to uninstall some crapware from MuckAfee, Spotify, and others. I will have to get USB/VGA and RJ45 dongles (I already use those for my personal Lenovo Yoga).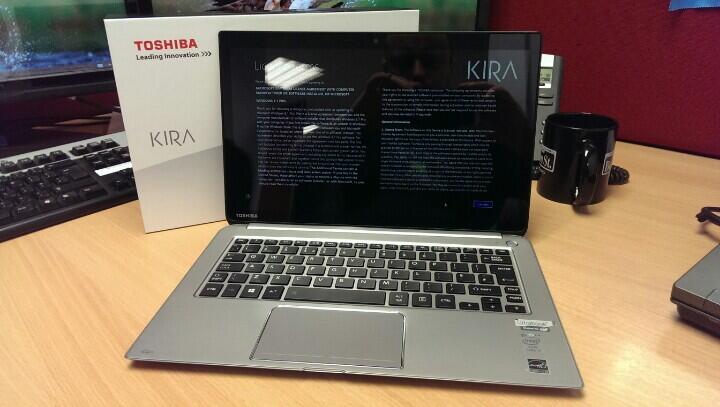 Price-wise, this seems to come in at $1,699,99 on Amazon.com. It's just started shipping in Europe, and I didn't see it on Amazon UK or Germany. AFAIK, Toshiba are selling to consumers via exclusive retailers.
I'll write up a bit more when I have had time to work with it.
Please follow and like us: